ギャラリー田中屋は1988年に池田民生発案,
パリ オデオン サンジェルマンに、にあり
ギャラリーは現在まで日本、江戸時代からのオリジナルの芸術作品を専門に,
特定の浮世絵版画と新版画、陶磁器、漆、ブロンズを持っています。
ギャラリーは定期的に展覧会を開催して 国際的な古美術品展示会に参加.
(マーストリヒトTEFAF、ブリュッセルBRAFA)
The gallery Tanakaya, created in 1988 by Tamio Ikeda, in Paris, is specialized in original japanese prints -Ukiyo-e, Shin-Hanga and Sôsaku-Hanga- paintings, illustrated books, bronzes, ceramics, lacquers, from the Edo period to the contemporary.

The gallery is located in the center of Paris (Saint-Germain / Odeon).

The gallery offers only genuine art objects and prints, from 17 th to 20 th century.

Tanakaya participates in several antiques fairs, such TEFAF at Maastricht, and BRAFA at Brussels.

Créee il y a 26 ans par Tamio Ikeda, la galerie Tanakaya est spécialisée dans les estampes japonaises originales -Ukiyo-e, Shin-Hanga et Sôsaku-Hanga- les peintures, livres illustrés, bronzes, laques et céramiques du Japon.

Elle est située à Paris, dans le quartier de Saint-Germain / Odéon.

La galerie Tanakaya propose uniquement des oeuvres authentiques et sélectionnées, du XVIIe au XXIe siècle (période Edo, et ères Meiji, Taisho, Showa, et Heisei).

Elle participe à des foires d'antiquités internationales, telles TEFAF à Maastricht en mars, et BRAFA à Bruxelles, en janvier.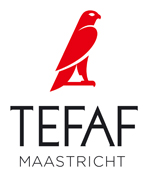 La galerie TANAKAYA participe à TEFAF, à Maastricht.
The gallery TANAKAYA takes part in TEFAF, at Maastricht.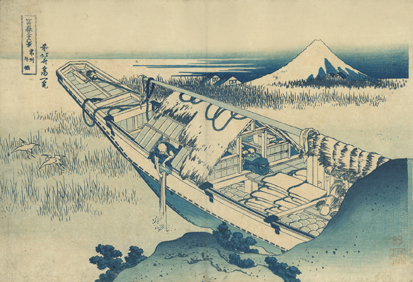 n° 22 Katsushika Hokusai (1760 - 1849)
Jôshû Ushibori 1830-34 Series : Fugaku Sanjyurokkei (36 Views of Mount Fuji) First state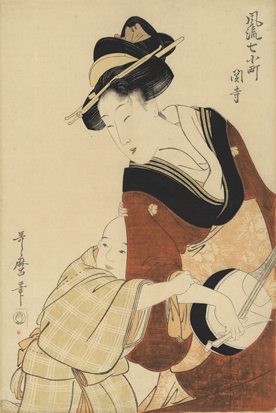 n° 11 Kitagawa Utamaro (1753 - 1806)
A young mother playing Samisen. C. 1798 From the Henri Vever's Collection.
The European Fine Art Fair ouvre au public du vendredi 13 au dimanche 22 mars 2015.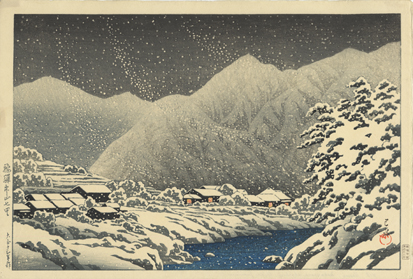 n° 61 Hasui Kawase (1883 - 1957)
Hida Nakayama - Shichiri Taisho 13 (1924)
The European Fine Art Fair welcomes the public from March 13 to 22, 2015.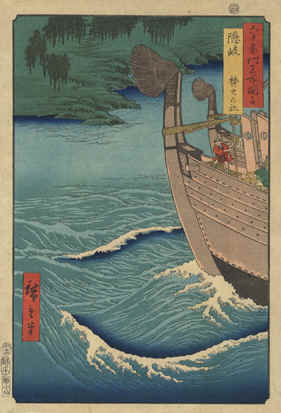 n° 40 Utagawa Hiroshige (1797 - 1858)
Oki, Takuhi no yashiro 1853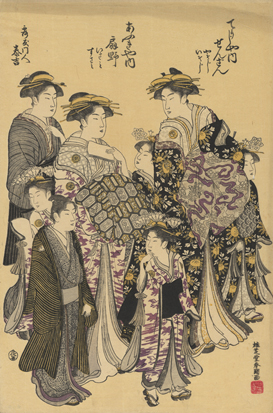 n° 7 Katsukawa Shunchô (active 1780 - 95)
The courtesans Senzan and Ogino 1790's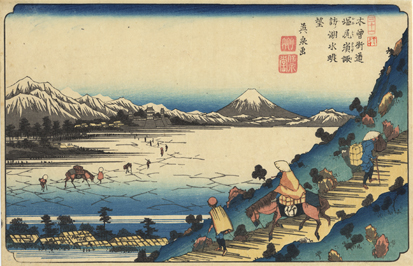 n° 36 Kesai Eisen (1790 - 1848)
Shiojiri tôge - Suwa no kosui chôbô 1835-38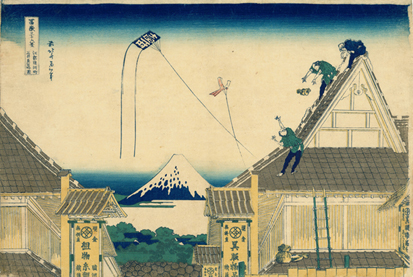 n° 23 Katsushika Hokusai (1760 - 1849)
Eto Surugachô Mitsui mise ryakuzu 1830-34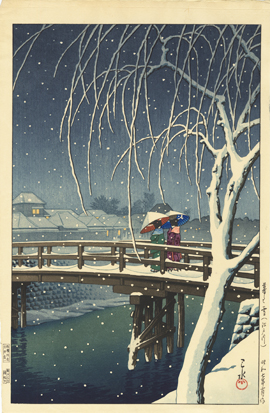 n° 70 Hasui Kawase (1883 - 1957)
Fururu Yuki (Edogawa) Showa 7 (1932)
n° 51 and 50 Utagawa Toyokuni III (1786 - 1864)
The Kabuki actors Sawamara Tanocuke III (left) and Kataoka Nizaemon VIII 1863 (left) and 1860 (right)
n° 57 Hasui Kawase (1883 - 1957)
Komagata gashi Taisho 8 (1919)
Bientôt, d'autres estampes exposées à TEFAF, sur cette page.
Soon, others prints exhibited at TEFAF, on this website.
Thank you to continue visiting the website

by clicking on the flag

Merci de continuer la visite du site

en cliquant sur le drapeau
22/02/15 Private
visiteurs