ギャラリー田中屋は1988年に池田民生発案,
パリ オデオン サンジェルマンに、にあり
ギャラリーは現在まで日本、江戸時代からのオリジナルの芸術作品を専門に,
特定の浮世絵版画と新版画、陶磁器、漆、ブロンズを持っています。
ギャラリーは定期的に展覧会を開催して 国際的な古美術品展示会に参加.
(マーストリヒトTEFAF、ブリュッセルBRAFA)
The gallery Tanakaya, created in 1988 by Tamio Ikeda, in Paris, is specialized in original japanese prints -Ukiyo-e, Shin-Hanga and Sôsaku-Hanga- paintings, illustrated books, bronzes, ceramics, lacquers, from the Edo period to the contemporary.

The gallery is located in the center of Paris (Saint-Germain / Odeon).

The gallery offers only genuine art objects and prints, from 17 th to 20 th century.

Tanakaya participates in several antiques fairs, such TEFAF at Maastricht, and BRAFA at Brussels.

Créee il y a 25 ans par Tamio Ikeda, la galerie Tanakaya est spécialisée dans les estampes japonaises originales -Ukiyo-e, Shin-Hanga et Sôsaku-Hanga- les peintures, livres illustrés, bronzes, laques et céramiques du Japon.

Elle est située à Paris, dans le quartier de Saint-Germain / Odéon.

La galerie Tanakaya propose uniquement des oeuvres authentiques et sélectionnées, du XVIIe au XXIe siècle (période Edo, et ères Meiji, Taisho, Showa, et Heisei).

Elle participe chaque année à des foires d'antiquités internationales, telles TEFAF, à Maastricht en mars, et BRAFA à Bruxelles, en janvier.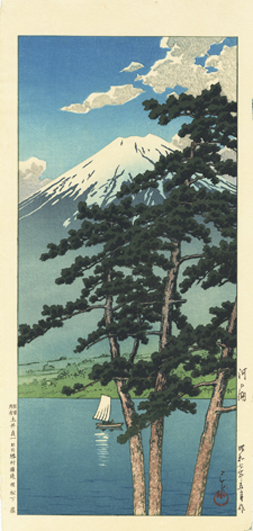 N° 50
Kawase Hasui
(1883 - 1957)
Kawaguchi Ko
(Le lac Kawaguchi / Kawaguchi Lake)
Showa 7 (1932)
Exposition à la galerie :
" D é c o u v e r t e s "
Du 1er au 24 octobre 2014.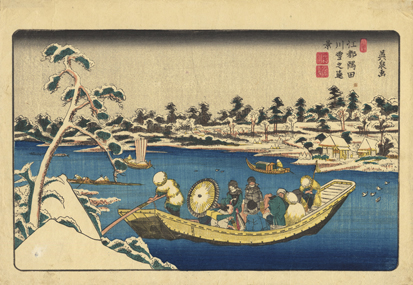 N° 10
Kesai Eisen
(1790 - 1848)
Eto Sumidagawa Yuki no enkei
(Vue de la rivière Sumida sous la neige, à Edo /
View of the river Sumida in the snow, in Edo)
c. 1835
Exhibition at the gallery :
" D i s c o v e r i e s "
October 2014, 1st to 24.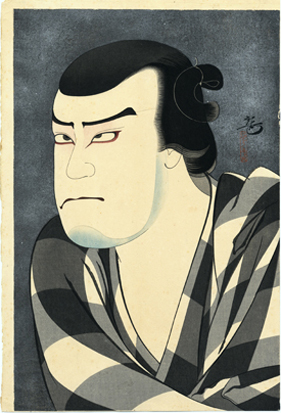 N° 43
Yoshikawa Kanpô
(1894 - 1979)
Yoshitsune Senbonzakura :
Jitsukawa Enjaku (Igami no gonta)
(L'acteur de Kabuki Jitsukawa Enjaku II /
The Kabuki actor Jitsukawa Enjaku II)
Taisho 12 (1923)
Principales signatures des oeuvres exposées / Key signatures of the prints :
Suzuki Harunobu (1724-70)
Ippitsusai Bunchô (actif de 1765 à 1792)
Bunrô (actif vers 1800 - 1810)
Katsushika Hokusai (1760 - 1849)
Utagawa Toyokuni (1769 - 1825)
Kesai Eisen (1790 - 1848)
Utagawa Kuniyoshi (1797 - 1861)
Utagawa Hiroshige (1797 - 1858)
Shibata Zeshin (1807 - 1891)
Toyohara Kunichika (1835 - 1900)
Ogata Gekkô (1859 - 1920)
Uemura Shoen (1875 - 1949)
Kawase Hasui (1883 - 1957)
Yamamura Toyonari (1885 - 1942)
Yoshikawa Kanpô (1894 - 1979)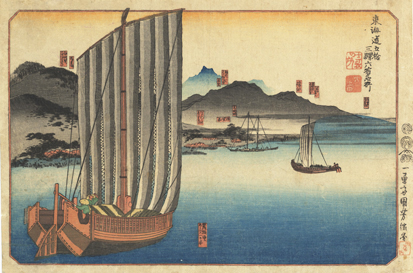 N° 17
Utagawa Kuniyoshi
(1797 - 1861)
Maisaka, Shirasuka, Futagawa, Yoshida, Goyû, Arai
Série / Series : Tôkaido gojûsan-eki, rokushuku meisho
1834-35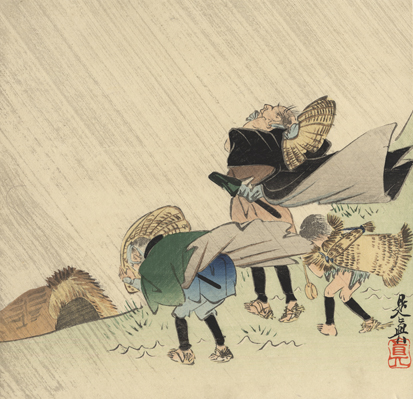 N° 33
Shibata Zeshin
(1807 - 91)
Voyageurs pris dans une bourrasque
c. 1880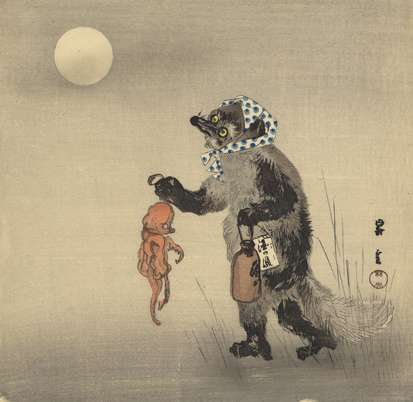 N° 42
Yamamoto Shoun
(1870 - 1965)
Tenuki tenant un poulpe
c. 1900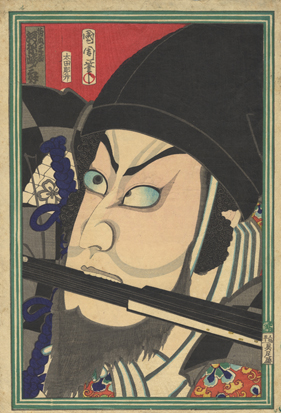 N° 30
Toyohara Kunichika
(1835 - 1900)
Ichikawa Danjyûro IX
c. 1869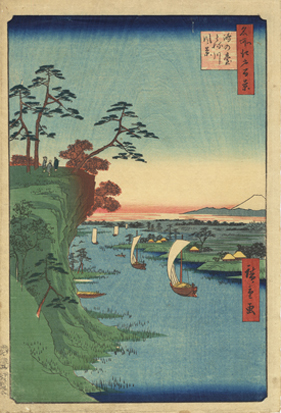 N° 23
Utagawa Hiroshige
(1797 - 1858)
Kônodai Tonegawa fûkei
Série / Series : Meisho Edo Hyakkei
1856
Bientôt, d'autres estampes de cette exposition seront présentées sur cette page !
Soon, other prints of this exhibition will be shown on this page !
*
* *
L'achat d'une oeuvre d'art est un moment particulier, qui implique de voir ou de toucher l'oeuvre, afin d'en ressentir l'esprit, de percevoir tous ses détails, d'en saisir le sens.
Internet est un outil utile à l'information (sur les sites de qualité !), mais incapable de remplacer ce contact personnel avec les oeuvres.
Ce site souhaite donc vous donner envie de venir à la galerie, et de voir directement ces oeuvres.
Les estampes et objets d'antiquités qui y sont proposés y sont, bien sur, très supérieurs en nombre à ceux figurant sur ce site.
A bientôt rue Saint-Sulpice.
*
* *
La galerie est membre de : The gallery is member of :
Syndicat National des Antiquaires (Paris)
International Ukiyo-e Society - Kokusaï Ukiyo-e Gakkaï (Tokyo)
Chambre Syndicale de l'estampe, du dessin et du tableau (Paris)
Japanese Art Society of America - Ukiyo-e Society of America - (New-York)
Society for Japanese Arts (Leiden, Pays-Bas)
19/09/14 Private
visiteurs