ギャラリー田中屋は1988年に池田民生発案,
パリ オデオン サンジェルマンに、にあり
ギャラリーは現在まで日本、江戸時代からのオリジナルの芸術作品を専門に,
特定の浮世絵版画と新版画、陶磁器、漆、ブロンズを持っています。
ギャラリーは定期的に展覧会を開催して 国際的な古美術品展示会に参加.
(マーストリヒトTEFAF、ブリュッセルBRAFA)
The gallery Tanakaya, created in 1988 by Tamio Ikeda, in Paris, is specialized in original japanese prints -Ukiyo-e, Shin-Hanga and Sôsaku-Hanga- paintings, illustrated books, bronzes, ceramics, lacquers, from the Edo period to the contemporary.

The gallery is located in the center of Paris (Saint-Germain / Odeon).

The gallery offers only genuine art objects and prints, from 17 th to 20 th century.

Tanakaya participates in several antiques fairs, such TEFAF at Maastricht, and BRAFA at Brussels.

Créee il y a 26 ans par Tamio Ikeda, la galerie Tanakaya est spécialisée dans les estampes japonaises originales -Ukiyo-e, Shin-Hanga et Sôsaku-Hanga- les peintures, livres illustrés, bronzes, laques et céramiques du Japon.

Elle est située à Paris, dans le quartier de Saint-Germain / Odéon.

La galerie Tanakaya propose uniquement des oeuvres authentiques et sélectionnées, du XVIIe au XXIe siècle (période Edo, et ères Meiji, Taisho, Showa, et Heisei).

Elle participe à des foires d'antiquités internationales, telles TEFAF à Maastricht en mars, et BRAFA à Bruxelles, en janvier.
Nos meilleurs voeux pour
2 0 1 5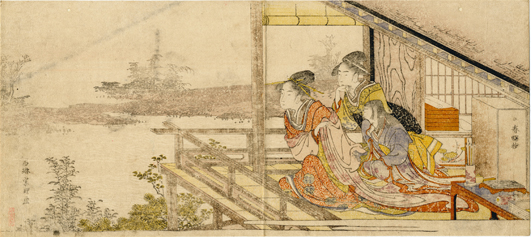 Katsushika Hokusai
(1760 - 1849)
Shunshoshô
Lever de soleil au Nouvel An / New Year Sunrise
Surimono, c. 1798

Happy New Year Glückliches Neues Jahr
Gelukkig Nieuwjaar Feliz Ano Nuevo
Felice Anno Nuovo
§
§ §
Evènement à Paris : l'exposition HOKUSAI
Aux Galeries Nationales du Grand-Palais des Champs-Elysées
2e partie de l'exposition : du 1er décembre au 18 janvier 2015.
Katsushika Hokusai (1760-1849) est sans doute le plus connu des dessinateurs d'estampes Japonaises,
ses oeuvres étant parmi les plus recherchées par les collectionneurs.
Cette exposition est à voir par tous ceux qui connaissent déja l'estampe du Japon,
et par tous ceux qui souhaitent la découvrir.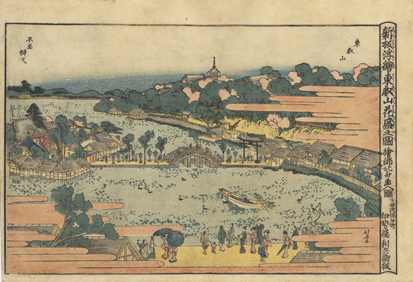 Katsushika Hokusai
(1760 - 1849)
Tôeizan Hanazakari no zu
Série / Series : Shinpan uki-e
c. 1810
Events in Paris : the HOKUSAI exhibition
Grand-Palais, Champs-Elysées, National Galleries
Second part of the exhibition : December 1st to January 2015, 18th.
Katsushika Hokusai (1760-1849) is probably the most famous Japanese drawer,
and his works are among the most sought after by collectors.
This exhibition has to be seen by all those who already knows Japanese prints,
and by all those who wish to discover.
An exhibition that worth the trip to Paris !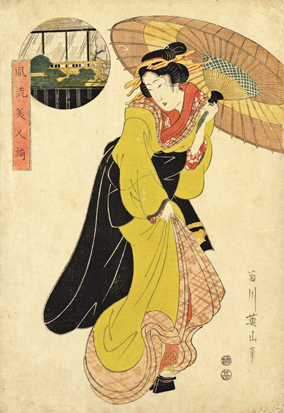 Kikugawa EIZAN
(1787 - 1867)
Amagasa
(Umbrella - Ombrelle)
c. 1814-17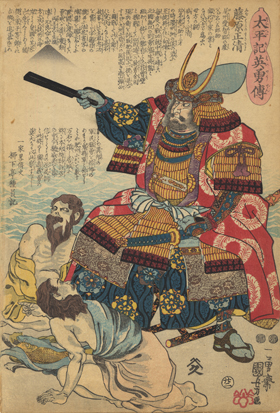 Utagawa Kuniyoshi
(1797 - 1861)
Fujiwara no Masakiyo
c. 1846-47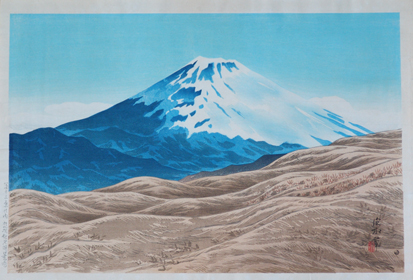 Itô Shinsui
(1898 - 1972)
Hakone Miharashidai no oite Utsusu
(Vue de Hakone et Mont Fuji depuis Miharashidai /
View of Hakone and Mount Fuji from Miharashidai)
Showa 23 (1938)
Thank you to continue visiting the website

by clicking on the flag

Merci de continuer la visite du site

en cliquant sur le drapeau
10/12/14 Private
visiteurs