The gallery Tanakaya, in Paris since 1988, is specialized in original japanese prints -Ukiyo-e, Shin-Hanga and Sôsaku-Hanga- paintings, illustrated books, bronzes, ceramics, lacquers, from the Edo period and the Meiji, Taisho, Showa and Heisei Eras.

The gallery is located in the center of Paris (Saint-Germain / Odeon).

Tamio IKEDA, the manager, will be pleased to receive you or to send you the works of art you will choose.

The gallery offers only genuine art objects and prints, from 17 th to 20 th century.

Ouverte il y a 25 ans, la galerie Tanakaya est spécialisée dans les estampes japonaises originales -Ukiyo-e, Shin-Hanga et Sôsaku-Hanga- les peintures, livres illustrés, bronzes, laques et céramiques du Japon.

Elle est située à Paris, dans le quartier Saint-Germain / Odéon.

La galerie Tanakaya propose uniquement des oeuvres authentiques et sélectionnées, du XVIIe au XXIe siècle (période Edo, et ères Meiji, Taisho, Showa, et Heisei).

Son directeur, Tamio Ikeda, sera heureux de vous recevoir, ou d'expédier les oeuvres que vous aurez sélectionnées.
Nous vous présentons nos meilleurs voeux pour
2 0 1 4

Happy New Year
Glückliches Neues Jahr
Feliz Ano Nuevo
Gelukkig Nieuwjaar
Felice Anno Nuovo
*
* *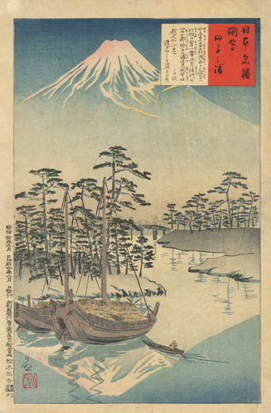 Kobayashi Kiyochika
Taganoura
Meiji 30 (1897)
D'autres oeuvres de Kiyochika
sont accessibles en
en cliquant sur l'estampes ci-dessus
Click on the print above to look at
others works by Kiyochika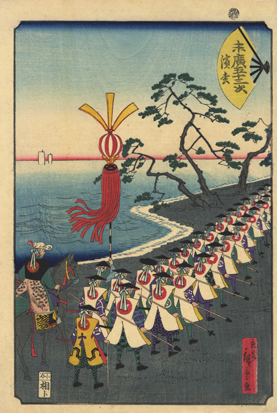 Utagawa Hiroshige II
Suehiro Tokaido, 1865
Cliquez sur l'oeuvre ci-dessus pour
accéder à une série d'estampes de paysages,
de 1865, par divers dessinateurs.
*
* *
L'achat d'une oeuvre d'art est un moment particulier, qui implique de voir ou de toucher l'oeuvre, afin d'en ressentir l'esprit, de percevoir tous ses détails, d'en saisir le sens.
Internet est un outil utile à l'information (sur les sites de qualité !), mais incapable de remplacer ce contact personnel avec les oeuvres.
Ce site souhaite donc vous donner envie de venir à la galerie, et de voir directement ces oeuvres.
Les estampes et objets d'antiquités qui y sont proposés y sont, bien sur, très supérieurs en nombre à ceux figurant sur ce site.
A bientôt rue Saint-Sulpice.
*
* *
La galerie est membre de : The gallery is member of :
Syndicat National des Antiquaires (Paris)
International Ukiyo-e Society - Kokusaï Ukiyo-e Gakkaï (Tokyo)
Chambre Syndicale de l'estampe, du dessin et du tableau (Paris)
Japanese Art Society of America - Ukiyo-e Society of America - (New-York)
Society for Japanese Arts (Leiden, Pays-Bas)
29/11/13 Private
visiteurs